BEDLOFT QUESTIONS
How high will my bedloft be?
The final height of the bedloft is determined by two factors: the height of our riser, and the height of the university supplied bed. Our bed risers are three feet (36in.) high, and are NOT adjustable up or down. University supplied beds vary in height. Some are as low as 8 inches from the ground; and some can be as tall as 4 feet! Some bed styles are even adjustable anywhere in between. For example: A bed that is 12 inches tall would result in a loft that is 4 feet high (1' bed + 3' riser = 4' bedloft). A bed that is 24 inches tall would result in a loft that is 5 feet high ( 2' bed + 3' riser = 5' bedloft). Due to the vast number of different bed styles, it is impossible to give exact measurements for each bed in each room at every school. However, by and large, most beds are typically are 1 - 3 feet tall. This means that most of our bedlofts USUALLY fall in the range of 4-6 feet.

Will your loft work with an extra-long bed?
Absolutely. Our lofts are completely adjustable to fit all sizes of bed frames - even extralong twins!
Do you supply a ladder?
Our bed loft does NOT require the use of an additional ladder or step stool to get in and out of the bed. Our patented metal frame has an integrated 'ladder-back' system which allows the student to climb right up either side of the loft. After all, you just paid us two hundred bucks to give you MORE SPACE in your room! Why would we want to clutter up all that extra floor space with a ladder???
Do you supply a bed rail?
We completely understand a parent's concern for their child's safety; however, a safety restraint is often cumbersome, and hinders the student's ability to easily get into and out of the bedloft. While we do not require our customers to use a safety rail, we do offer one that we will install on your student's bedframe.
What if I have a history of falling out of bed?
If you have a history of falling out of bed, please DO NOT order a bedloft. Our bedlofts are the safest out there; however, if you have a problem with falling out of bed, you probably don't want to be higher. However, if you really want a bedloft, but need a little extra peace of mind, we do offer an optional
Bed Safety Rail
that can be added on to your order to prevent you from rolling out of the bed.
Will I need any tools to assemble my bedloft?

No. All of our items will already be safely assembled in your room by one of our trained representatives.
How sturdy are the your lofts?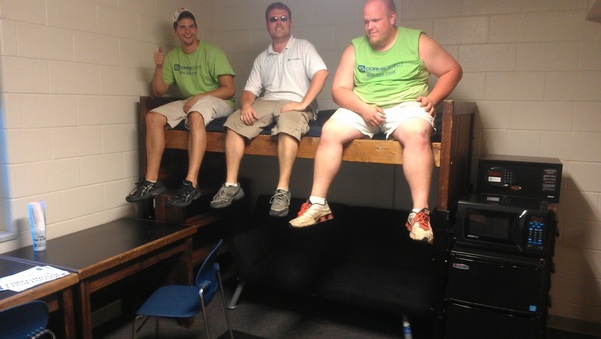 Our lofts are rated to hold weight up to 1000 pounds! The example here shows 3 guys with a combined weight over 700 lbs! As you can see, our frames are extremely safe and sturdy!
---